Pandemic Response Solution
Take rapid action and make data-driven decisions during COVID-19 and other public health emergencies with powerful, scalable, and flexible automation technology.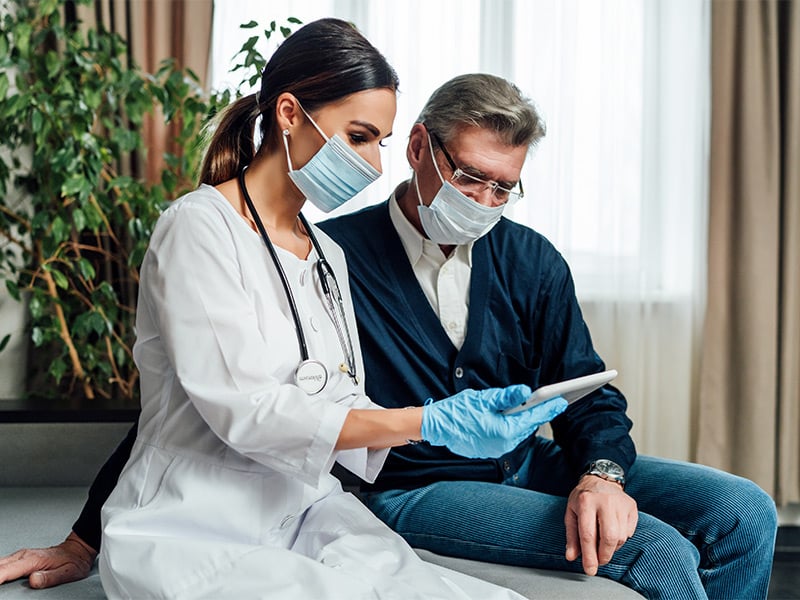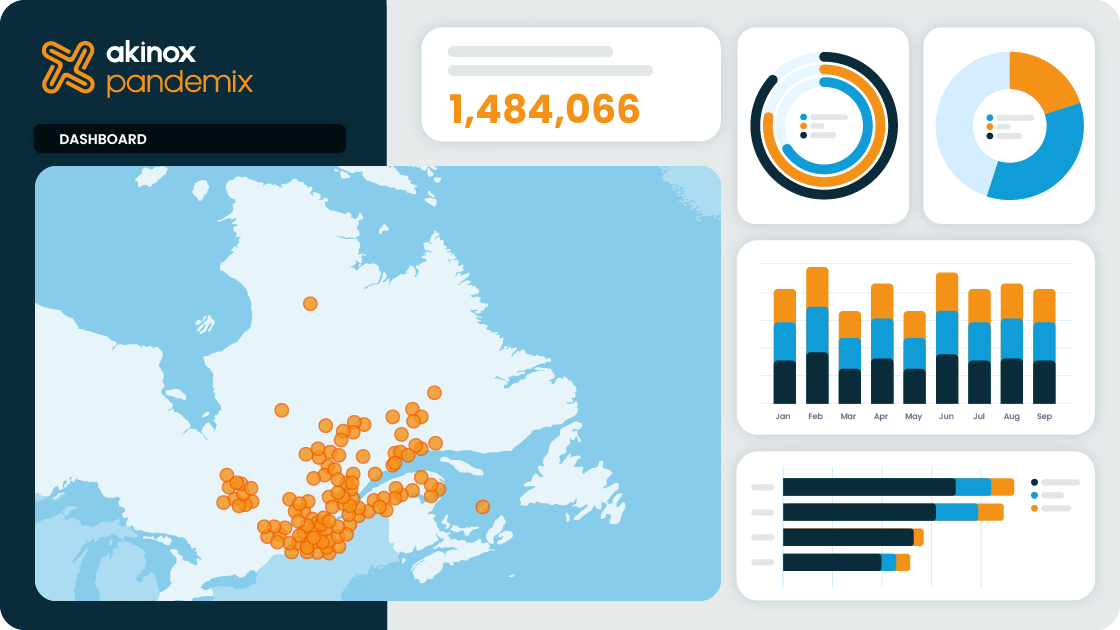 Data-Driven Pandemic Response
Outbreak Detection
Use real-time case data to identify outbreaks and priority populations, rapidly stop the spread during a pandemic, and effectively address nationally notifiable diseases.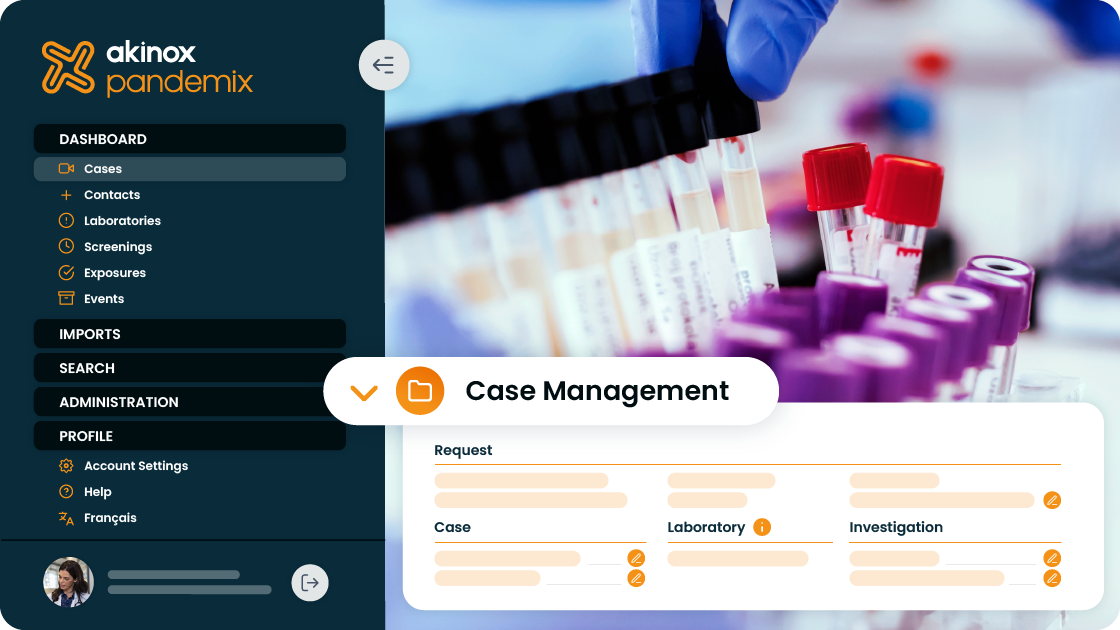 Automated Case Management
Case Management
Leverage automated case and contact self-reporting, smart triage, and multi-modal communications for increased case management agility and efficiency.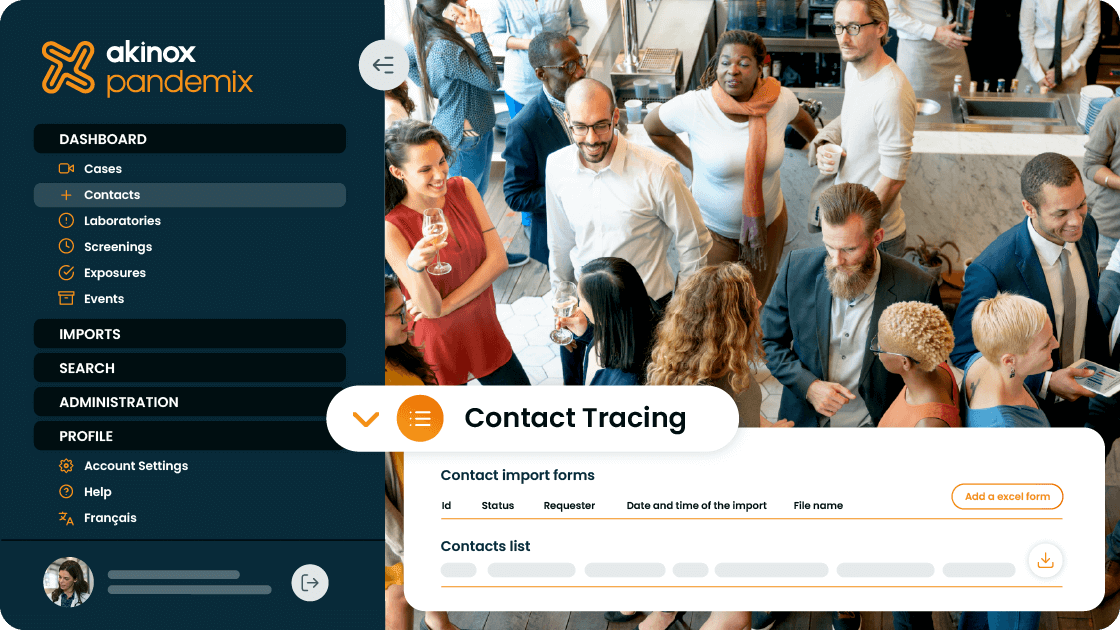 Efficient Contact Tracing
Contact Tracing
Automate and digitise contact tracing to scale across jurisdictions and maximise existing resources, enabling healthcare staff to focus on more important, meaningful work.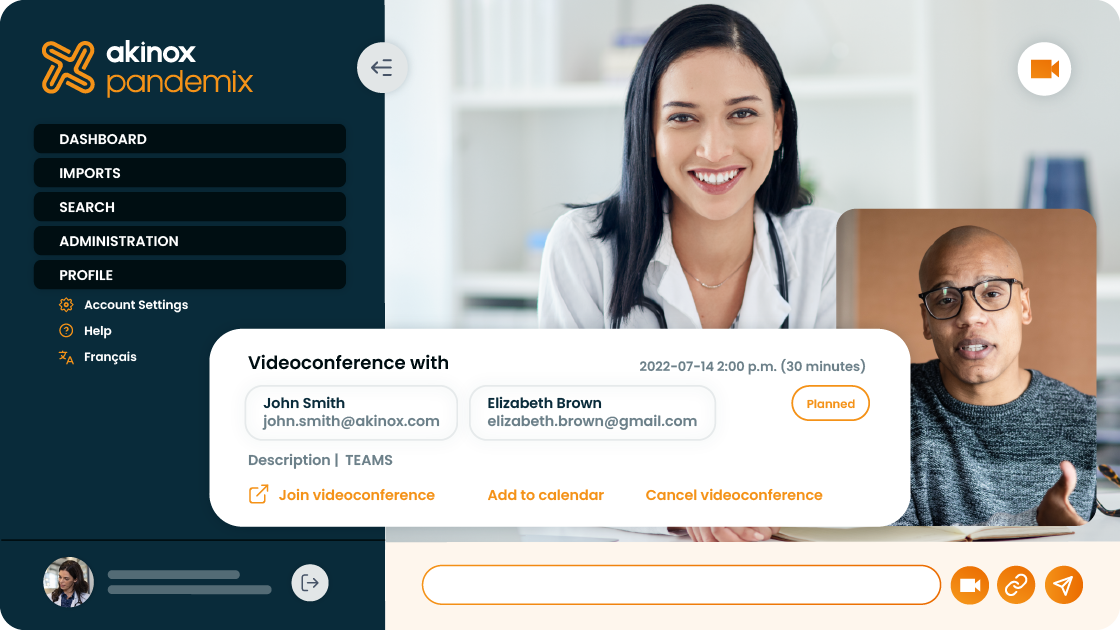 Streamlined Virtual Care
Virtual Care
Streamline real-time and asynchronous telehealth consultations to align with social distancing mandates and treat patients from the comfort of home.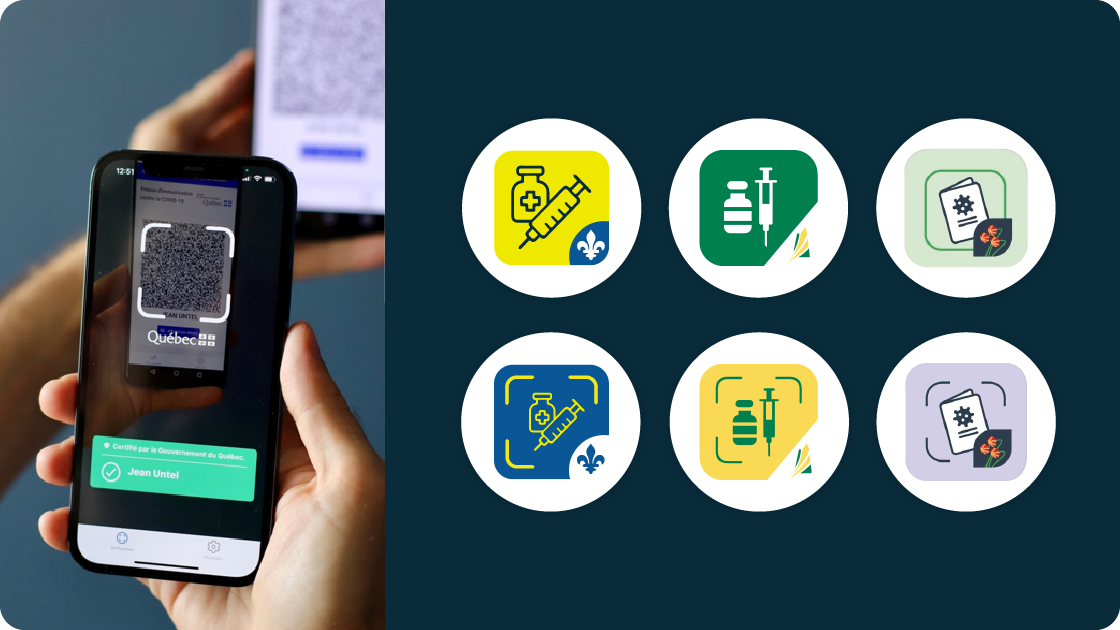 Digital Proof of Vaccine
Vaccine Passport
Verify any vaccination status with ease, accuracy, and efficiency with a QR code system, portal for issuing electronic proof, and award-winning mobile applications.
Why Choose Akinox Pandemix
Workflow & System Integration
Integrate rapidly with all workflows and systems, using seamless, powerful automation capabilities to eliminate faxes and other manual, repetitive tasks for maximum efficiency.
Data-Driven Decision-Making
Leverage real-time data from multiple sources and decision-tree algorithms to enhance clinical support and make better decisions with clearer, more accurate information.
Flexible, Scalable Solutions
Deploy a rapidly scalable, flexible, and interoperable solution to accommodate the evolving needs of healthcare patients and organisations, as well as the pandemic.
Centralised, Secure Data
Centralise private patient data with the utmost confidence that it will be safeguarded through role-based access controls and regulatory compliance.
Pandemic-Proven Results
Leverage technology expertly designed to rapidly scale across jurisdictions, with proven results for the Québec government and other Canadian public health authorities.
Reduced Care Burden
Leverage geolocation, smart triage, and more to coordinate all levels of care, make the most efficient use of valuable resources, and protect healthcare workers from exposure.
Our Pandemic Response Results
0
M+
processed test results
0
M+
citizen self-evaluations
0
M+
automated contact tracing
0
+
case investigations (24% self-reported)
0
+
years full-time equivalent saved (~$60 million)
0
+
total public health users
0
M+
vaccine passports within Québec (VaxiCode and VaxiCode Vérif)
0
M+
vaccine passports outside Québec (SK Vax Verifier, NLVaxPass and NLVaxVerify)
Explore the Solution
Discover some of the main features of Akinox Pandemix: The Pandemic Response Solution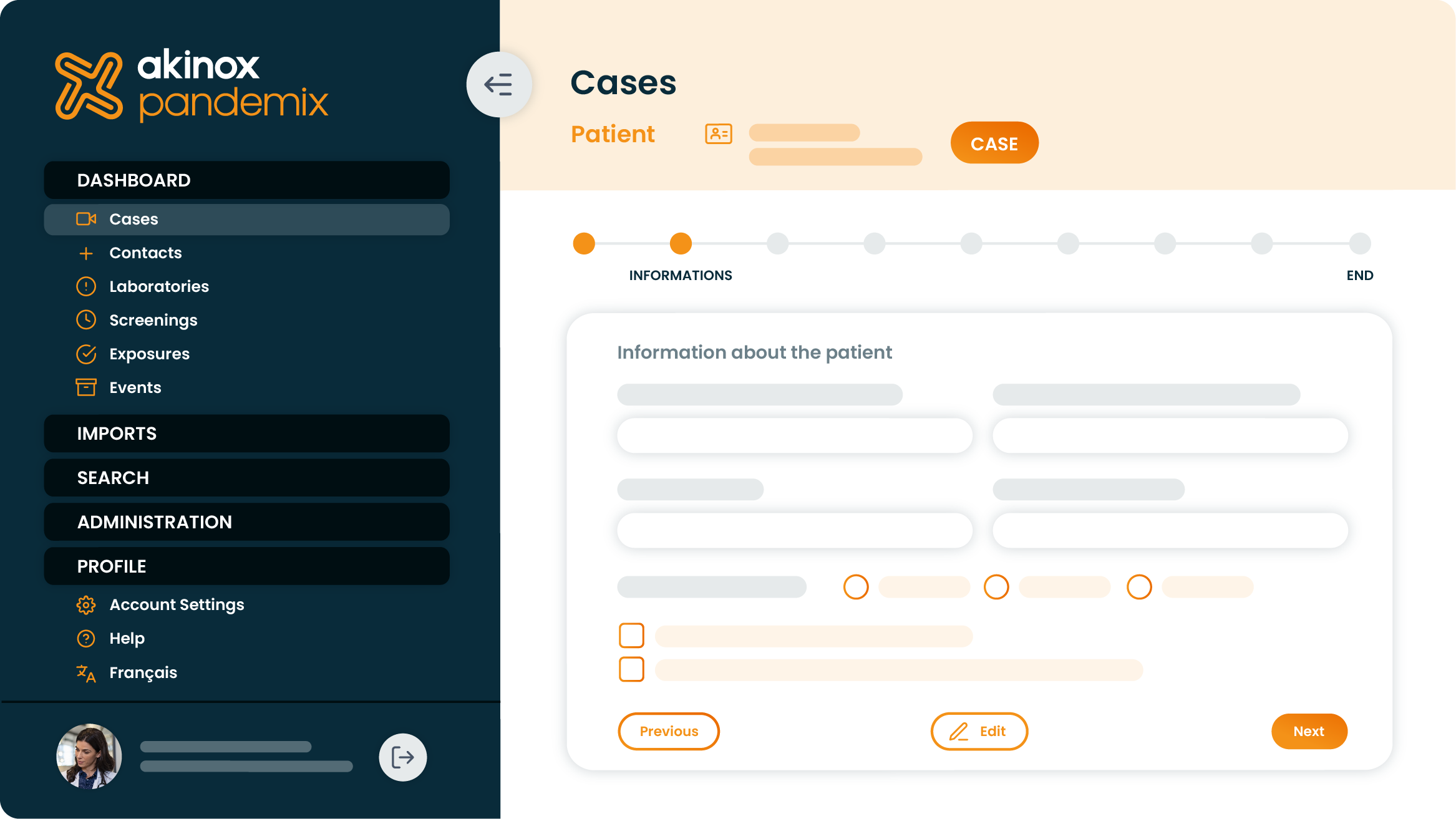 Cases Cycle - Collect all relevant information about the whereabouts of a patient and ensure the ability to contact all who could have been infected by the patient. A case cycle is automatically created when a positive laboratory result is entered.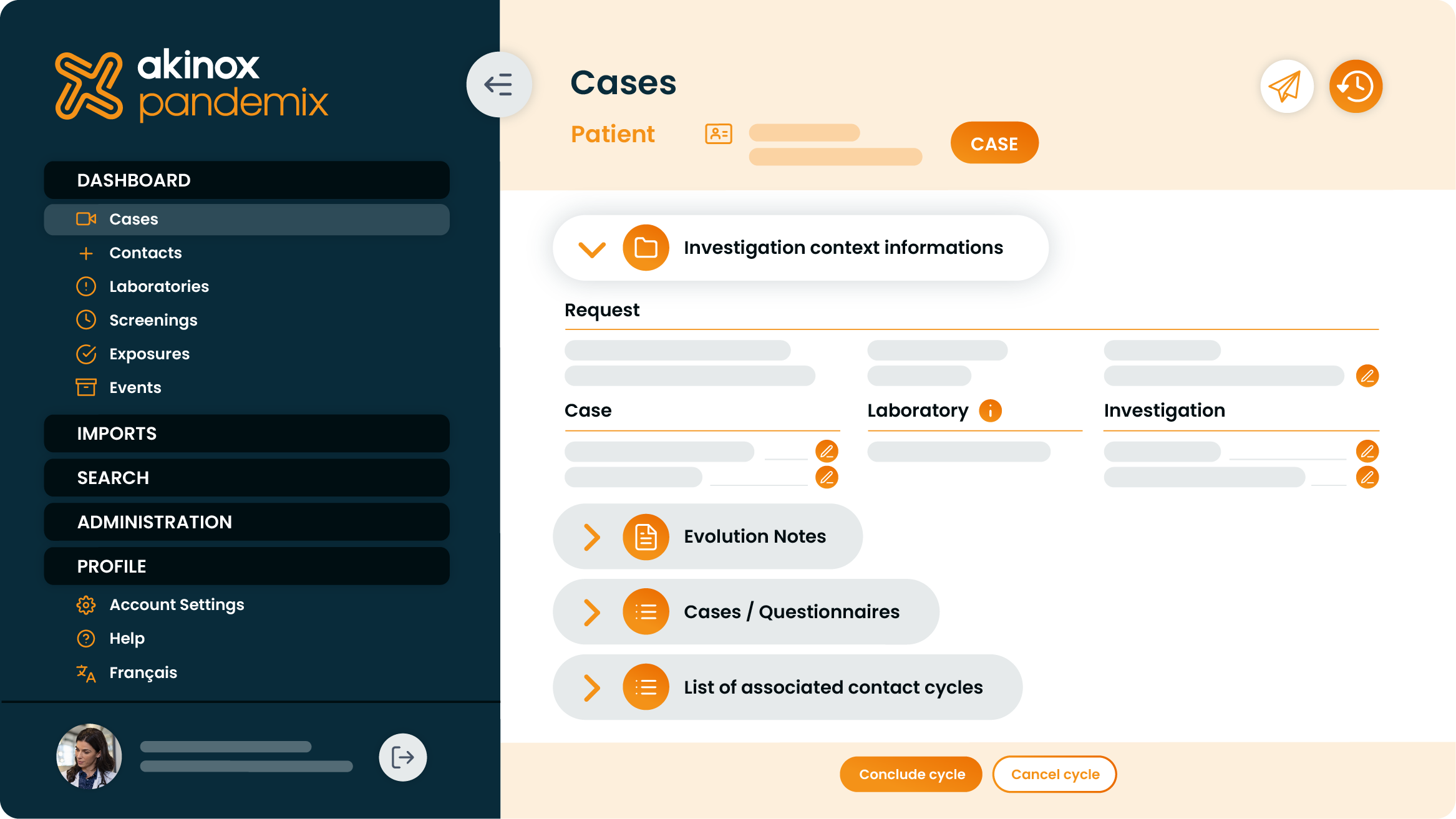 Case Investigation Information - Get access to all the information you need to track the progress of a case investigation or to choose the next best step. The data is customisable, which means you can tailor the information needed to conduct the best investigation possible.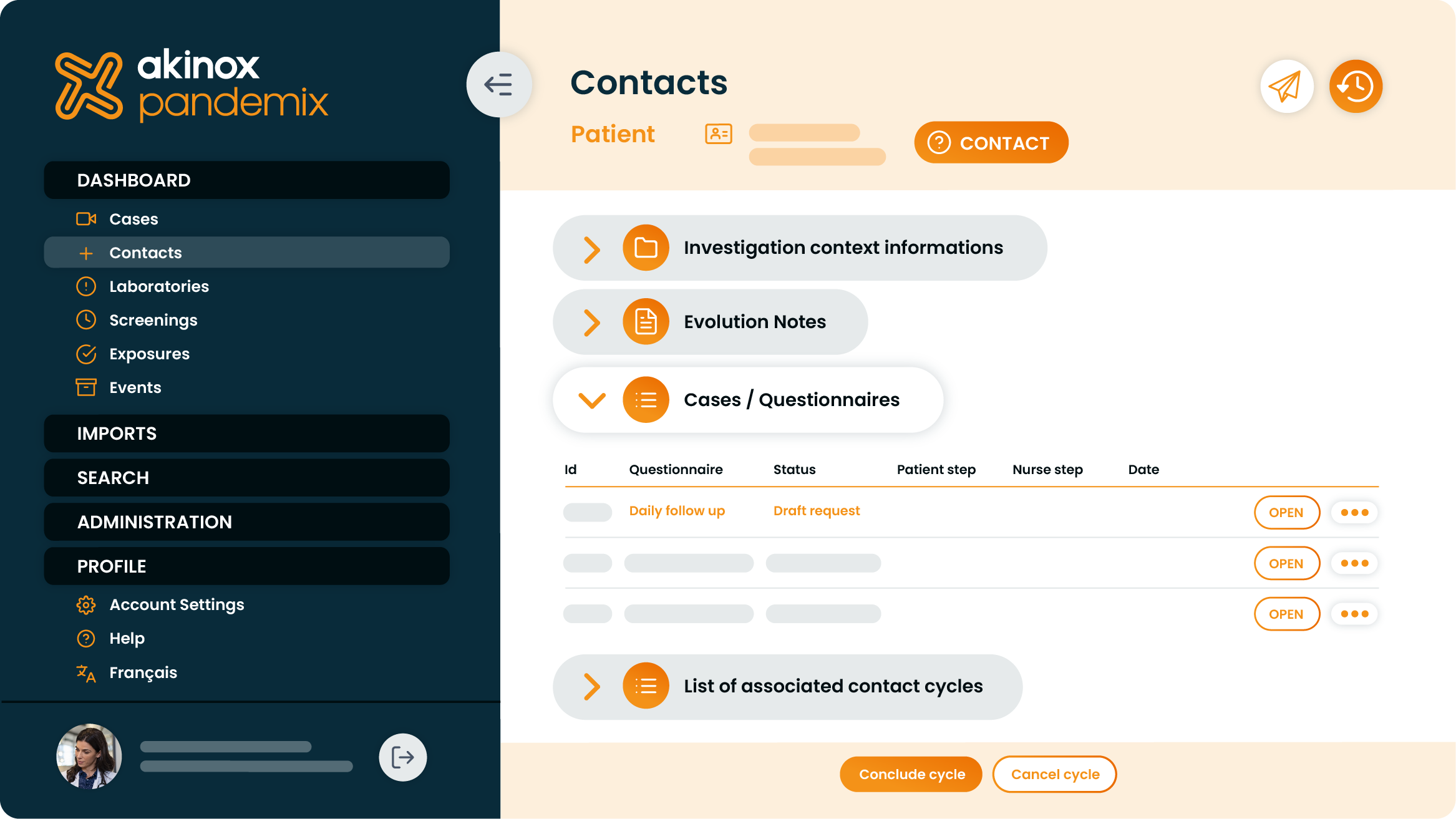 Contacts - Enable daily follow-ups with patients that have been in contact with a case. Send daily questionnaires to contacts to monitor their symptoms. Depending on the answers, some flags can be raised, and contacts can be asked to get tested.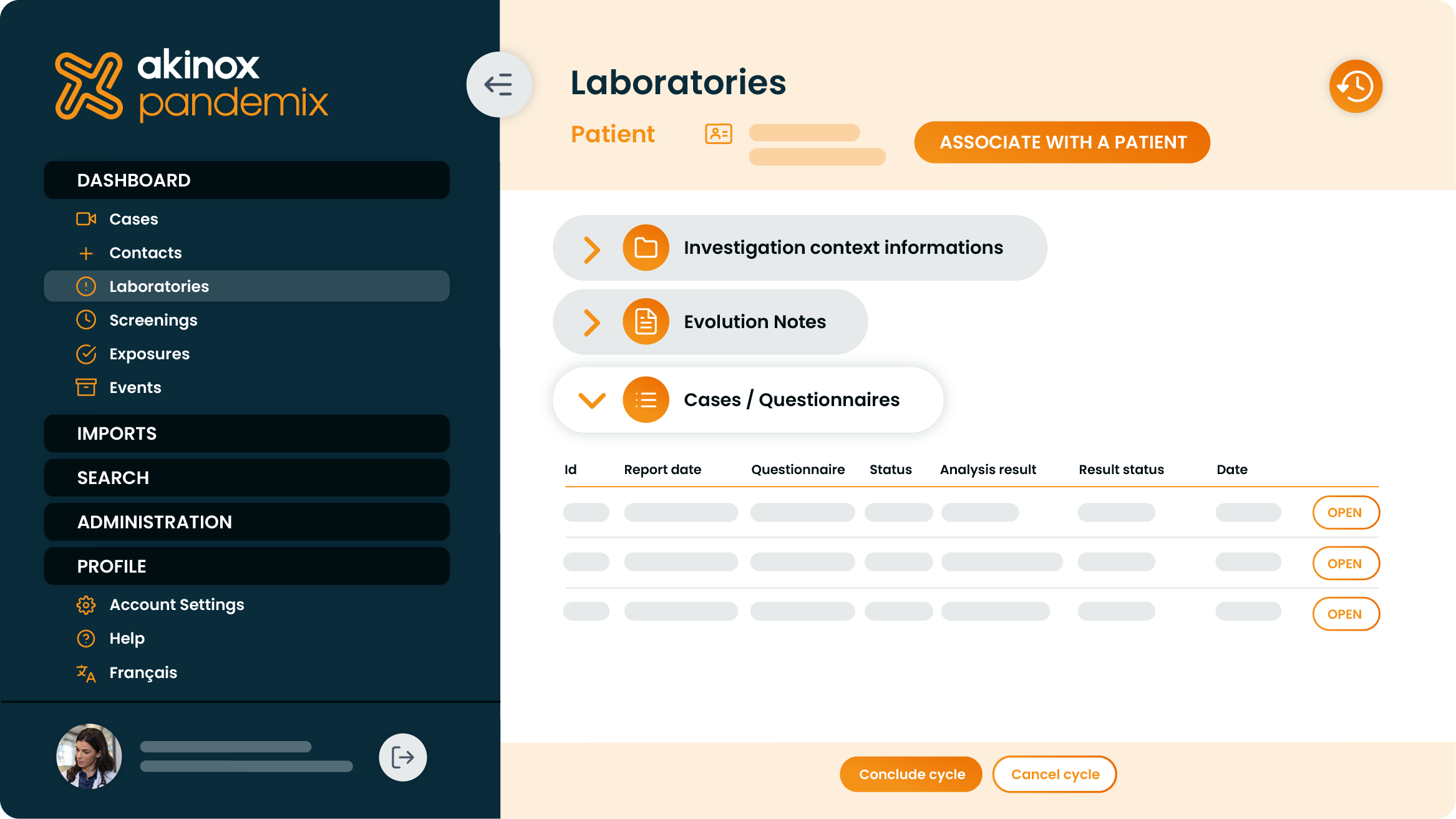 Laboratories - Create a new case cycle when a new result from one of the many integrated systems is received. The information is automatically populated in the right field, and a full summary of the result is included inside the case cycle.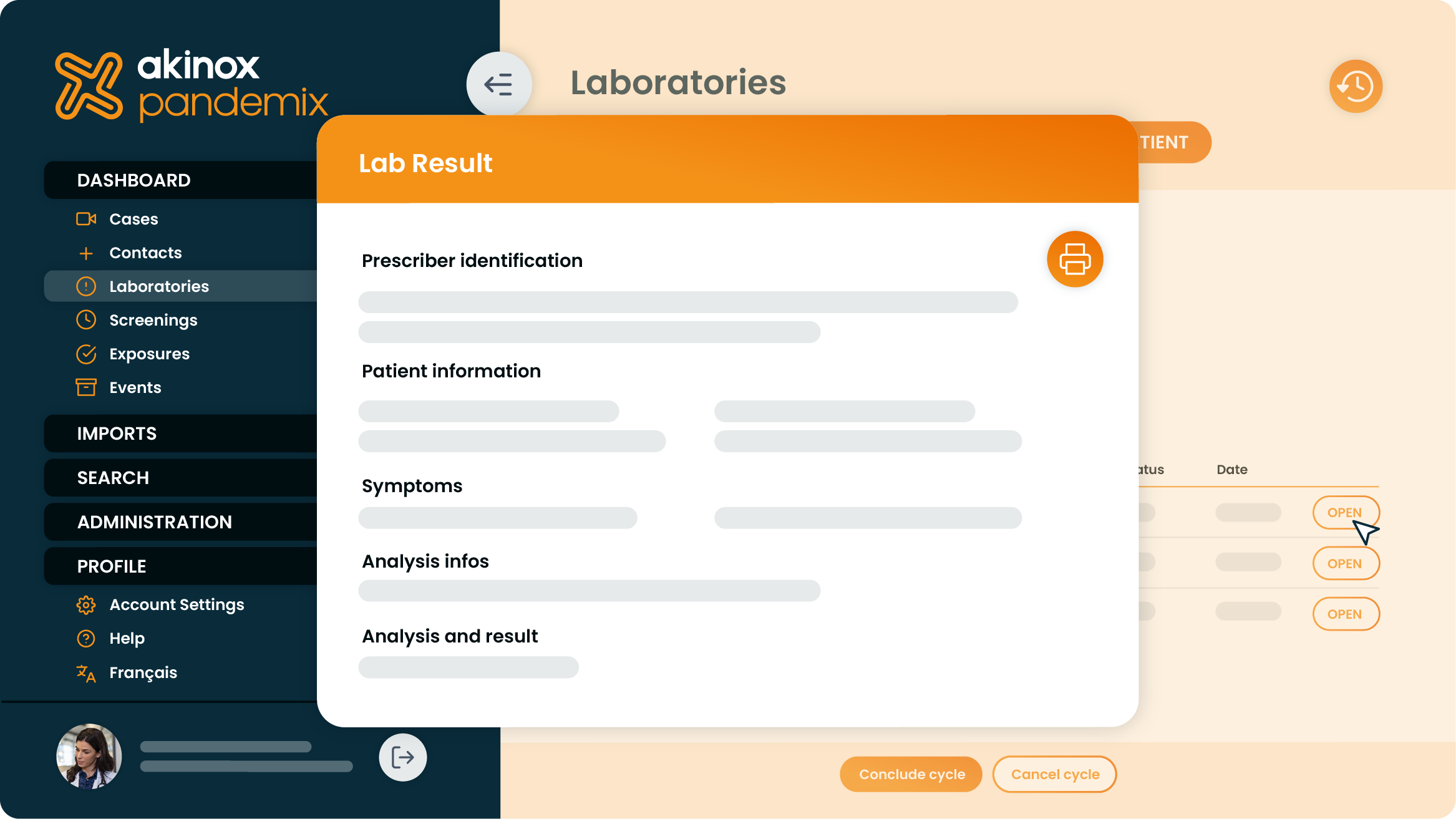 Laboratory Results - Receive almost instantaneous test results in order to process them in the shortest possible time. Interfacing with data transmission systems—hospitals and laboratories—via the FHIR standard, it is possible to use the solution for several different diseases, including AIDS, Gonorrhea, COVID-19, Monkeypox, and more.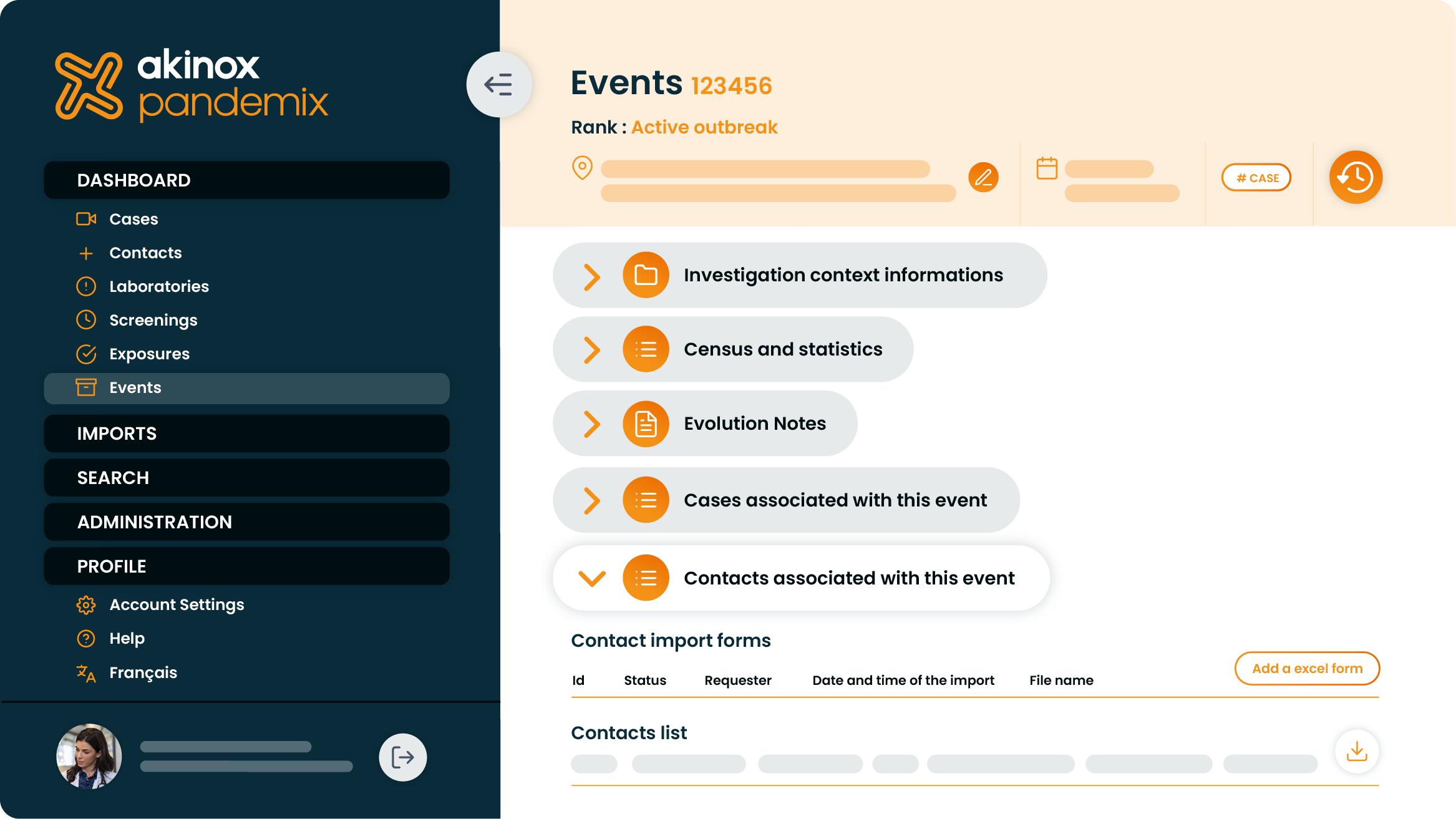 Events - Collect and centralise all cases and contacts that have been linked to a specific location via the exposure cycle. You can also import a list of contacts independently or via the Excel file import tool.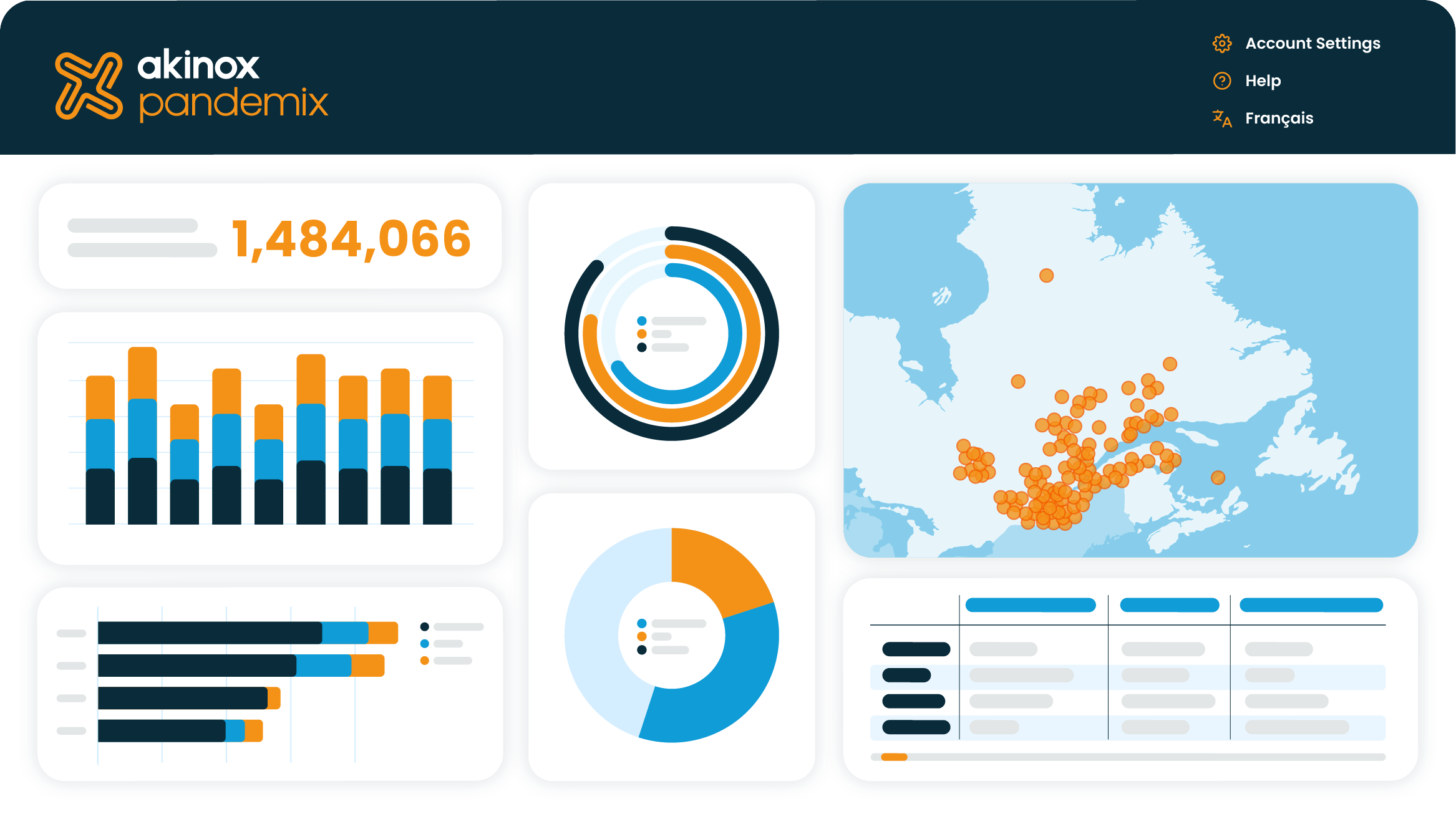 BI Dashboards - Leverage powerful business intelligence to generate dashboards with real-time data from multiple sources to make the right decisions for populations you need to serve and protect.
Accountable Partners
Work with a partner who serves as a true extension of your team
At Akinox, we do more than just provide healthcare technology—we are here to support it. We're committed to being reliable, accountable partners who provide governments and public health with support and guidance, every step of the way.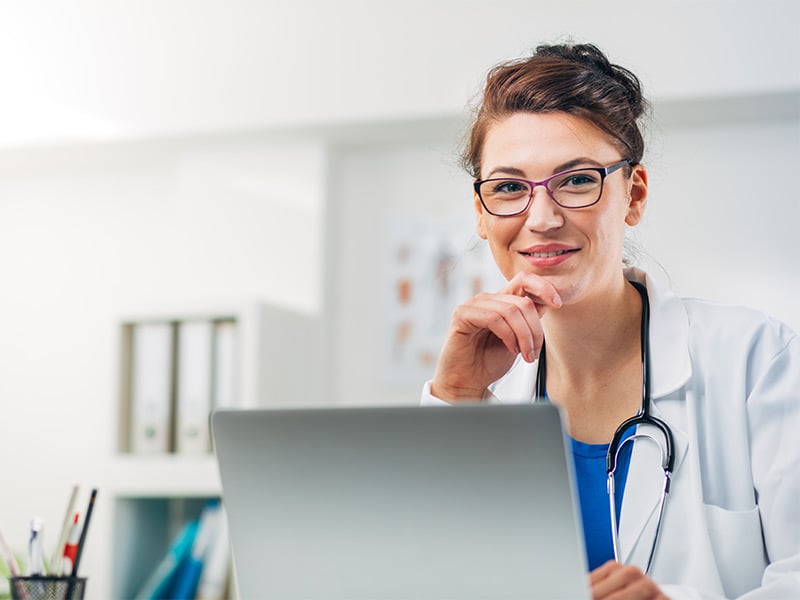 Getting Started With Akinox
Getting started is simple: Akinox's government partners can expect a painless, guided onboarding process, with regular communication, comprehensive training and education, and strong, dedicated support whenever it's needed.
Having worked alongside multiple governments, we know that each has unique needs, and we're committed to tailoring our services and solutions to accommodate them. That's why before getting started with implementation, we work together to clearly understand each client's needs and then customise our platform to accommodate them effectively.
Our proven, agile methodology is based on collaboration, allowing us to deliver the best possible solution for each and every government and organisation we partner with.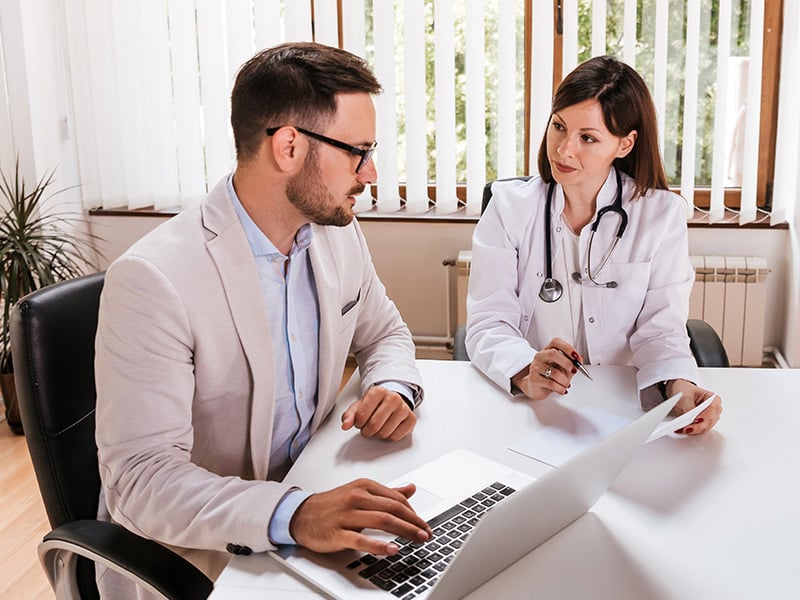 Onboarding & Implementation
Implementing new technology shouldn't be a headache—and with Akinox, it never is. We work alongside government officials and IT staff to guide onboarding and implementation, ensuring the platform integrates seamlessly with existing systems and that everything is set up for clear, tangible success from day one.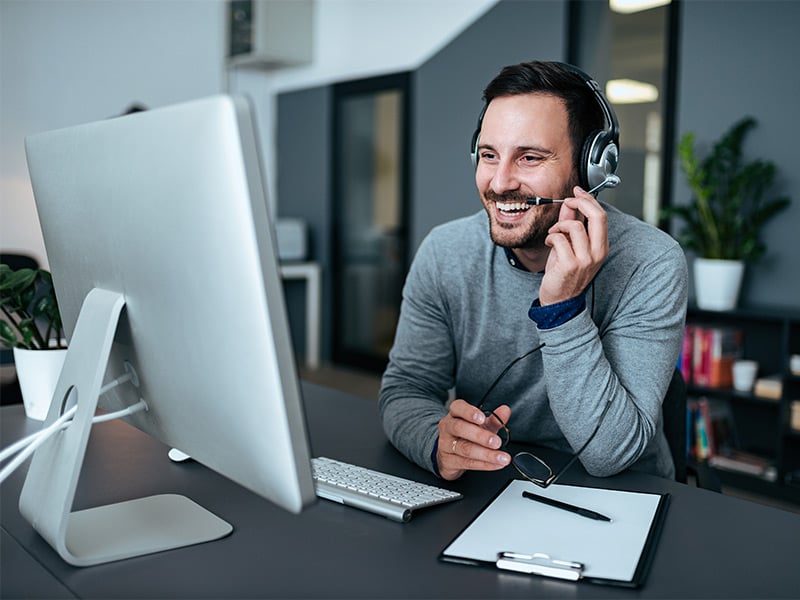 Training, Education & Support
Akinox consists of credible experts in all things related to healthcare and public health. That's why we always work alongside the government officials we partner with to provide comprehensive training and education, as well as strong customer support.
Explore the Latest Resources
Blog Post
Responding to COVID-19: Akinox Takes Action
Learn how Akinox supported the Québec government during COVID-19 with an automated contact tracing and case management solution.
Be prepared for the next health crisis with a proven pandemic response platform that checks every box.