October is breast cancer awareness month. In Canada, as in many countries, several foundations are collaborating on research and technology to improve medical care in an attempt to combat this disease.
According to the Quebec Breast Cancer Foundation, one of the best known foundations in Quebec, breast cancer would affect 1 in 8 women during their lifetime.
In order to support people affected by breast cancer and to raise awareness of this cause, the pink ribbon has been chosen worldwide as a symbol in the fight against this disease. Every year in October, thousands of people use pink in different ways to highlight those affected and those cured, always in the hope of technological advances for faster diagnosis and less painful recovery.
Akinox Joins the Cause
Akinox is committed to social causes related to health and improving the patient experience. With a mission to put the patient at the center of healthcare, all of our decisions and actions are made with this purpose in mind and our team of committed experts is always ready to contribute.
As with the Movember 2021 initiative, Akinox has mobilized its employees to take action in conjunction with Pink October to raise funds for scientific research on breast and ovarian cancer conducted by the McGill University Health Centre (MUHC). As a digital health company, we know the importance and impact of innovation on population health.
"My mother was diagnosed with breast cancer last year.She had radiation treatments and surgery. Finally, she beat cancer.Thanks to research, I can say that I still have my mom today!"
Mélissa Dias, Business Analyst at Akinox.
We asked our experts to take pictures of themselves wearing pink clothing, accessories or any other pink item. Each photo received contributed to the fund for the foundation at the end of October. This activity was once again a huge success and we raised 2000$ for the McGill University Health Centre Foundation.
We have also created a custom Akinox wallpaper for anyone who wants to highlight this cause during the month of October. Being a 100% remote company, our meetings and communications are done online and this wallpaper was highly adopted and helped raise awareness of the cause among our various collaborators and partners while showing our support.
We are honored to have a committed team. This motivates and encourages us to continue to participate in such important social causes as the fight against breast cancer.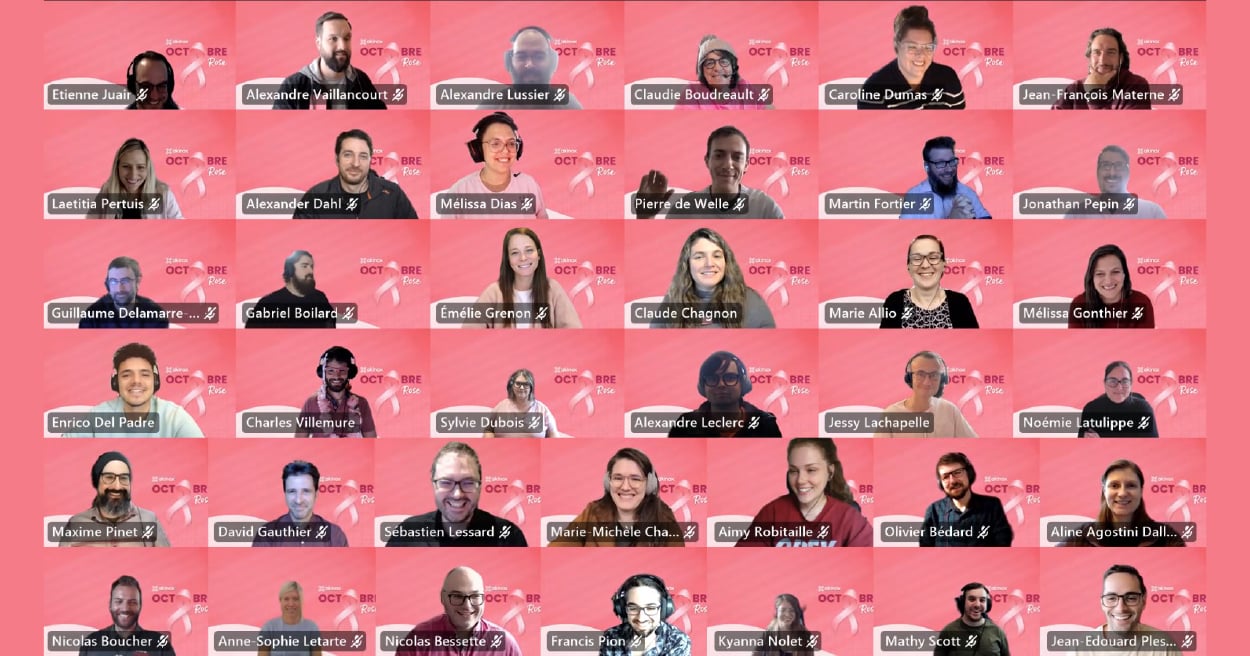 The McGill

University

Health

Centre

Foundation

and the Importance of Scientific

Research
The
McGill
University
Health
Centre
Foundation
,
founded
in 1973,
helps
support the
McGill
University
Health
Centre (MUHC)
, one of
Canada's
leading
research
and
teaching
hospitals
.
Donations to the
foundation
help
provide
better
care for patients and
fund
advanced
scientific
research
into
many
diseases
,
including
breast
and
ovarian
cancer.
In
this
sense
, the
foundation
has a mission
similar
to
that
of
Akinox
to
transform
healthcare
by putting the patient at the center
through
innovation.
We want to be even more involved in causes that are important to us.
Whether it's
Movember
or Pink October, we want to continue to support and encourage foundations that are doing great work, while pushing digital health technology advancements on our end so that together we
are able to
provide patients with a better healthcare experience across the system.