The e-Health Conference & Tradeshow took place from May 28th to May 30th, 2023, at the Beanfield Centre in Toronto. It is the event where major discussions on digital health in Canada take place. Since its launch in 2000, e-Health has become a crucial gathering for healthcare professionals in Canada, attracting over 1,000 participants.
This event, organized by Digital Health Canada, provides an ideal opportunity to share ideas, knowledge, successes, and challenges with colleagues in the field, both at the national and international level. This year's conference was organized in person after three years of being held virtually, taking place over a period of two days, enabling even more enriching exchanges.
This event also marked the first time the team of Akinox experts was present with a booth outside of Québec. We had the opportunity to engage with participants and partners to discuss the future of digital health in Canada and the latest industry trends, including Digital Front Door, which was the main focus of the presentation we delivered at this conference.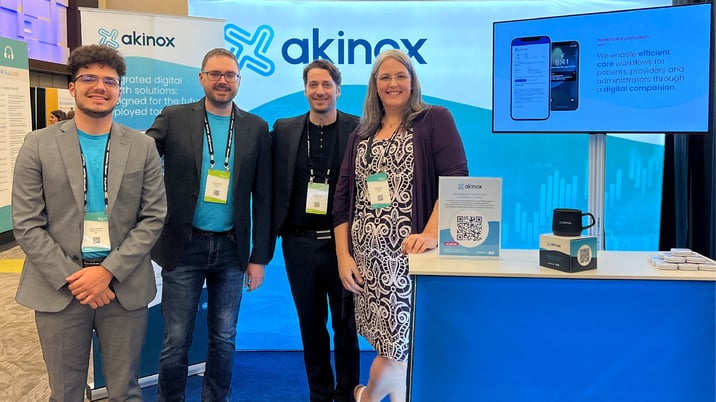 Akinox Showcase
Alexander Dahl, president and founder of Akinox, and William Patry, coordinator of Business architecture and orientations at General Directorate of University, Medical, Nursing, and Pharmaceutical Affairs at Québec ministry of health, delivered a showcase titled "Québec's GAP: A Joint Effort to Tackle Primary Care Access" in front of an audience of around a hundred people. Due to the significance of the topic discussed and Akinox's expertise in the field, this showcase became one of the most popular sessions of the event.
Alexander and William had the opportunity to present the GAP (Guichet d'accès à la première ligne or Primary Care Access Point), a platform developed by Akinox in collaboration with the Ministry of Health and Social Services. The GAP aims to provide improved and faster access to care for individuals without family doctors or those enrolled in a physician group who have a non-urgent or semi-urgent health issue. The GAP also enables greater control over patients' medical data and provides other types of information on various topics, such as prescription renewals, lab tests, vaccinations, and more.
During this presentation, we also explained the different stages of the development and deployment of the GAP, shared the lessons learned from this collaborative project with the Ministry of Health and Social Services, and discussed the future prospects of this platform, which will grant patients more autonomy over their medical data and appointment scheduling, providing them with increased control and empowerment.
Did you not have the opportunity to come and meet the Akinox team at the e-Health Conference & Tradeshow? Do you want to better understand how the Primary Care Access Point facilitates the daily lives of patients and frontline workers? Contact us at info@akinox.com or call us at 1 (800) 996-9196 to engage with our experts.
To stay updated on all Akinox events, visit https://www.akinox.com/events.